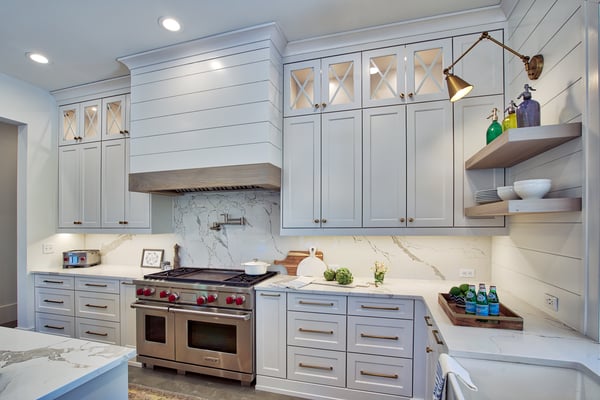 Are you planning your dream kitchen? A crucial step should be taking into consideration the elements you love and hate about your current kitchen. The kitchen is easily one of the most utilized rooms in a home, and with so much time being spent there it's important the space is a unique reflection of your family's needs. We'll dive into a few of those considerations, but first a word of advice: With a room as important as the kitchen, it's a wise idea to partner with an experienced kitchen designer.
Layout
The first thing you need to consider is layout. Practicality, a view of the outdoor area, and good interaction with other spaces in the house are all layout elements that you should try to incorporate into your design if you are building a completely new space. Modern kitchen designs use "zoned" layouts that include a cooking zone, storage zone, and cleaning zone. A professional can help you decide a designation for each zone that optimizes your space.
Style
An overall style for your kitchen should be decided in order to keep cohesiveness during the rest of the design process. It's also important that whatever style you choose takes into account the style of the rest of the house. Don't let this thought hinder you, however, especially if you are looking into a style that might otherwise clash with the house style. Giving a modern twist on a craftsman style is an example of transitional style.
Kitchen Island
Islands are a practical and functional addition to kitchens that can enhance the environment. Island placement is a by-product of layout and a design decision that needs to be made in early stages of planning. They should be seriously considered and are highly desirable since they add increased counter space, seating, and storage options.
Materials
Cabinetry falls into this category and is a huge component of any kitchen. There are many cabinet material options that can account for life circumstances, like small children and dirty hands. Handles are another material choice that can go a long way in making style choices. Work with a designer to ensure your choice doesn't clash with the rest of your kitchen or house. Backsplashes are another excellent element to work with a designer on to really consider the type of material to use in order to make the statement you want.