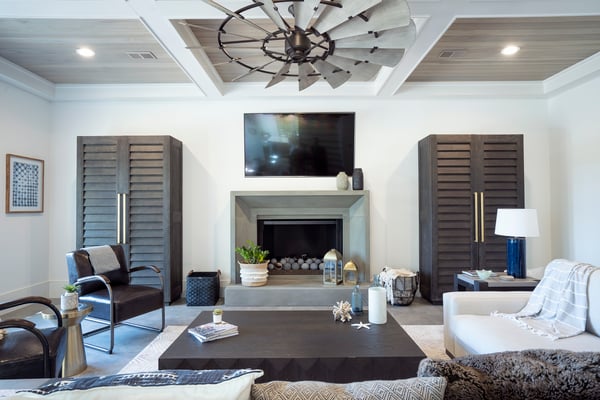 When you engage in a design overhaul or new construction, it's usually with the intent to create a space that is holistically your own. Design features go a long way in creating space that is ideal for and representative of you and your family. So whether you've just purchased your first house or are looking to spruce up with some new design inspiration, here are five design trends to take note of this year.
Colorful Kitchens
White will always be a classic color among kitchen design, but homeowners are willing to take more risks and inject more color into the space. Instead of bland hues, homeowners are opting for rich wood colors, like mahogany. Neutrals are still an excellent choice in such a high traffic room, but going with neutrals in the blue and gray family create a higher visual impact than tan or beige and work to give the space a warm, unique feel. Sites like Houzz, Instagram and Pinterest have allowed homeowners to see what's possible in the realm of color and encouraged more risks.
Concrete as an Accent
It's time for white marble to step aside. Concrete is quickly becoming a go-to material for affordable, high-impact design elements, according to industry professionals. Most commonly thought of as an alternative for floors and countertops, concrete is now being used in more unexpected ways for things like accessories, pendant lighting, and furniture. If you do decide to go the concrete route on a floor or countertop space, you can tie that design decision to other parts of your house with a well placed concrete fireplace or bathtub to keep the cool vibes throughout.
Black Fixtures
Sticking with the bolder trends of 2018, black fixtures look to be taking the place of brass as the new, stylish home hardware choice. This is the case for several reasons, the first being it's a color that pretty much goes with anything. The second reason black fixtures are becoming such a popular choice in bathrooms and kitchens is that the matte finish is much easier to clean than its brass counterpart. Black fixtures also have a transcendent quality about them, allowing them to look great in more modern settings or in more transitional homes.
Light Wood Floors with a Lot of Texture
Flooring trends are moving away from red-toned woods found in tropical exotics, like Brazilian Cherry, and moving towards lighter color palettes with domestic wood, like white oak, pine, or hickory. Light-hued woods brighten up spaces and more easily hide imperfections. These floors are being finished with a blonde tone much different from the old yellow hued floors of decades past. These reasons make them an excellent choice if you have children or pets.
Vintage Lighting
Retro fixtures are being updated with new technology by a wave of crafty DIY-ers. Vintage sconces, pendants, lanterns, and chandeliers and making a comeback as a result. People find the older fixtures are often better made than new fixtures and add a one-of-a-kind quality to rooms.