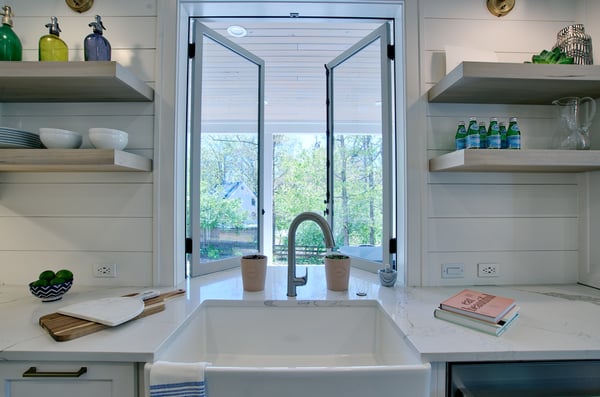 There are dozens, if not hundreds, of moving pieces that make up a typical construction project. And there are a lot of people, often working at the same time, charged with putting those pieces in the right places.
What could possibly go wrong?
As experienced home builders and remodelers, we know that mistakes do happen, and that they can be difficult and time-consuming. Fortunately, we also know how to avoid most of them!
How Design Build Offers a KISS-able Approach to Home Remodeling
From conception to completion a single point of contact combined with a unified team is the greatest advantage of the design build approach. It helps:
Simplify the process and management of people.
Meet your design goals while respecting your budget.
Increase on-site efficiencies.
For our clients, this translates into fewer cost discrepancies because from day one your designer utilizes real and timely construction estimates.
Plus, an invested team that's been involved from the start has a deep understanding of the "whys" of your design which guarantees a smoother construction phase. These talented artisans use their expertise to give us feedback during the design process on how to best accomplish construction goals. They also provide us with ideas and options that add real improvement and value to your remodel while reducing the probability of change orders.
Keeping Change Orders to a Minimum
Oh, how many times we've heard "I assumed" it would be one way or another. That's why we love the design build approach so much. Assumptions – and expectations – are discussed throughout the design phase so the number and size of changes you make are done early in the process, not while standing in your in-process kitchen or bathroom remodel! We know the right questions to ask to ensure your designer incorporates your needs and desires into the initial plans.
Here's a great tip: changes made during the construction process are just about 100% more costly than changes made during the design phase. And we're not just talking dollars and cents. When changes are made during construction, there can be delays in getting the supplies or labor, which slows down your timeline and adds to your bottom line.
Your unified design build team works to identify potential issues before they become problems. The time they spend discussing and debating design options before building begins then helps you avoid a variety of construction issues altogether. How? It's simple: layout and material changes made in the design phase instead of during the construction phase are always more cost effective.
Learn More
At Infinite Home, we feel strongly that every project should boil down to a satisfied client who enjoyed the experience and is thrilled with the craftmanship they received. And we're confident the design build approach is the best way to achieve that result.
If you're ready to remodel your existing Atlanta area home, or build a new one, we invite you to view our complete portfolio and then contact us to schedule a conversation. We look forward to working with you!