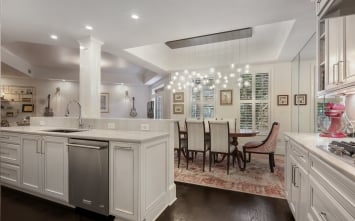 Many of our clients love their neighborhoods and community, including the schools their children attend. It's one of the main reasons they tell us they wouldn't dream of leaving. They want to remodel their existing home, updating it to accommodate their family's current needs.
If you feel the same way and are ready to make some big changes to your home with a kitchen, bath, or whole house remodel, but are concerned about the disruption and stress it might bring, we're here to reassure you. Remodeling can be a fun process and we'd love to show you how.
Scheduling Tips for Your Home Remodel
You might have heard spring and summer are the best times to schedule a remodel. While it's true that some seasons are "better" than others for major remodeling projects, in truth, they're only ideal if they work for you. Depending on the scope of your project, those seasons can typically be extended to accommodate your personal schedule.
No matter what time of year you decide to get started, experience has taught us these simple tips will make ensure you survive a remodel with your sanity and—most importantly—sense of humor intact.
Forewarned is forearmed, so start the planning process early. From budget to timeline and project scope, make a list of every detail. The in-home consultation portion of our design build process includes questions that help you discover and articulate your priorities and goals.
Consider moving out during the remodel, especially if it's a large one. If you decide to stay, plan how you'll deal with the interruption to your daily routine, especially if you're gutting your kitchen. Dust and noise control is vital to your lungs and ears!
Anticipate mood swings. Like everything else, remodeling has its ups and downs. One day you love the new flooring, the next you can't wait for the crew to just finish it up and give you back your home. Hang in there by envisioning your newly completed space.
Plan for unexpected changes. No matter how well your remodel is planned, there will be changes, even if they're small, that may affect the schedule. Mentally prepare for them and you'll find them easier to accept when they occur.
The Infinite Home Process
There's no denying that large-scale remodels involve a significant commitment of your time and patience. But they're worth it in the end, adding comfort, livability, and value to your existing home.
From design development to final walk-through, we have one goal: your enjoyment of the remodeling process. Because we believe the journey is as important as the final destination, even if that means staying right where you are! With careful planning and a realistic outlook, you'll find it easier to map out the right choice for your family, with the result being a beautiful new home!