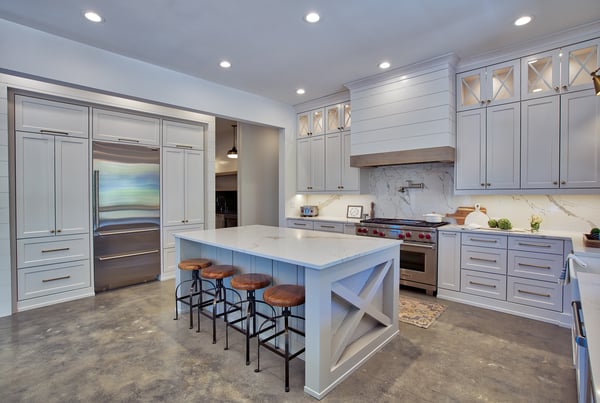 Are you agonizing over whether it's better to remodel or just pack up and move to a house that has everything you want? While we don't recommend making anything about remodeling your home a distressing decision, we do understand the feeling.
Our suggestion for getting back on the brighter side of the road? Think about whether what you want in a home today will truly work for you in the future. Does it make uprooting from your current home worth it? If not, remodeling may be the best solution to get the "new" home you have in mind.
Is It Smarter to Move or Improve?
A home that was once perfect for your family suddenly seems cramped and dated. Maybe there's plenty of room, but it doesn't fit the family's lifestyle. Moving can be exciting. Staying put means having the same neighbors, shopping at the same stores, and going to the same schools. How will you know you're making the right decision?
Talking to someone who understands can help you see all your options.
Do you love your current neighborhood? If you're crazy about your community, have established good relationships with your neighbors, and appreciate the easy access to local amenities, seriously think about whether you want to give that up.
Is your vision supported by local zoning regulations? If not, and you have your heart set on it, a move is probably in order, even if it means remodeling the new location in a more receptive neighborhood.
Do you like your home's special features? If so, adding on or remodeling can be far better than trying to recreate them somewhere else.
Finally, think about whether you might want to move again in the future when you're an empty nester or ready to downsize. Can you picture yourself thinking then you should have remodeled the home you already had?
Making the Leap
Here's what we've come to learn: most of our clients love their Atlanta neighborhood and value the time they've invested in developing friendships there. If they didn't, they wouldn't be asking the question in the first place! In our view, remodeling gives you the best of all worlds: an updated, more functional home that lets you stay where are.
Moving and remodeling are two different roads to the same destination, a home to love. Use these questions and considerations as a guide in helping you determine which choice is right for you.
If you ultimately decide to remodel, working with a custom design-build firm like ours can make the process an exciting and satisfying one. We invite you to take a tour of our complete portfolio and watch our testimonials. Then contact us to schedule a conversation. We look forward to working with you!