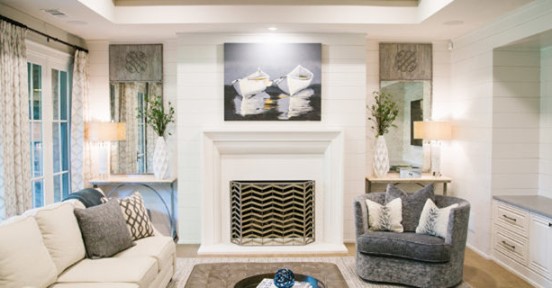 Hand in hand, every step of the way. That's the design build experience!
The Design Build Process
Imagine what it would be like to have your entire remodeling team under one roof, working with you to bring your home vision to life. With the design build approach to design and construction, that's exactly what you get: a dedicated group of people, passionate about design, working together in a single setting.
One of design build's defining features is that the designer works in coordination with other members of the team. This means your remodeling project's team provides him or her with valuable insights into the costs and feasibility of design elements. You then get a well-thought-out design that aligns with your vision, budget and schedule, with little or no unforeseen costs or delays during the construction process.
Advantages to Working with a Design Build Firm
The design build process has actually been around for thousands of years! Modern homeowners love it because of the many unique benefits it offers – ones you don't get with a traditional design-bid-build method.
There's greater cost predictability and control, with every design decision made with your targeted budget in mind. The result? Your final plans are 100% buildable from a practical and financial perspective. Because we handle purchasing the materials and hiring the tradespeople, our designers are well-versed in the costs of your particular remodeling needs.
A single point of contact throughout the process minimizes frustration and creates a streamlined process that moves your project forward more quickly and successfully. And a fully-integrated team significantly reduces redesigns, making it more difficult for anything to "fall through the cracks."
Better communication means fewer problems and less confusion. A team-oriented approach naturally promotes clearer communication, making it easier for everyone to get from point A to B. When hurdles do arise, the entire team works together to arrive at a feasible solution.
A Common Goal
In the world of design build, everyone moves towards a common goal: producing a quality design that meets the client's vision and expectations. Based on collaboration, mutual respect, and trust, it's a simple process that leads to outstanding results. It's one-stop shopping at its absolute best!
For more than 17 years, Infinite Home has been helping Atlanta area homeowners design and build exceptional home interiors and exteriors. We pride ourselves on giving you the peace of mind that comes with knowing your remodeling project will finish on schedule and on budget.
Most importantly, we believe that a successful home improvement project is much more than blueprints and construction. Our success is measured entirely by your satisfaction. We work hard to make your remodel a truly enjoyable and collaborative experience!